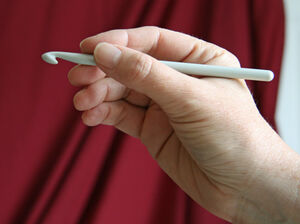 Why crochet? Why not? There are so many things you can do with the craft of crochet. With crochet you can make practical and useful items such as hats, gloves, doilies, scarves, sweaters, jewelry more. You can also create art with free form crochet. Crochet is an inexpensive hobby. With the cost of a skein of yarn and a crochet hook, you are good to go. Crochet is very portable and can be carried easily in a bag or purse - so it is always handy when you find your self with a few extra minutes, waiting for an appointment, or while watching televsion. Crochet is mainly just fun - it is fun to watch your creation develop, turning into something truly beautiful and useful. Many people crochet items for gift giving such as afghans, hats, baby hats, mittens, just about anything. Some people enjoy selling their crocheted items at craft fairs and shows. Another satisfying activity of crocheters is to crochet for charity. There are hundreds of charities that appreciate donations of crocheted items, especially hats, scarves and mittens. Crochet is easy to learn. Any one can learn to crochet - there are many good books for beginners and online videos to get you started. Once you have your skein of yarn and a crochet hook, the first thing to learn is the Chain Stitch(CH). Next learn to do the Single Crochet Stitch(SC), Slip Stitch(Sl St), Half Double Crochet (HDC)and Double Crochet stitch(DC). With these basic stitches you can make many, many things. You can use a pattern or make up your own designs. Have fun with this great hobby!
Ad blocker interference detected!
Wikia is a free-to-use site that makes money from advertising. We have a modified experience for viewers using ad blockers

Wikia is not accessible if you've made further modifications. Remove the custom ad blocker rule(s) and the page will load as expected.